Focus.





If God showed me this word once this new year, I've seen it, heard it, or read about it half a dozen times already.





I think He has something for me.





And you.





Focus.





When the ship is raging against a storm and you're on the ship, where is your focus?





The waves?





The ship?





The storm?





The sky?





God wants to take you back to the past for healing. He shows you something and years later, you see it from a different perspective. As a child you wondered where Jesus was in all of it.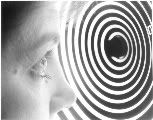 He was there the whole time. Difference is focus. What was fuzzy is now clear.





This new year, I know I'm praying direction, wisdom, provision and favor.





His response?





Focus.





Photo: photobucket






Julie Arduini is a wife, mom and surrendering writer. Her personal blog, The Surrendered Scribe, shows her writing resume. A graduate of the Christian Writers Guild, she is also a columnist with Take Root and Write. She recently placed 10th in the JournEzine Christmas story contest about the Good News of Bethlehem. Her verse for 2009 is Deuteronomy 11:1-12. She's a new columnist with the daily online newspaper, The Cypress Times.